The Campaign trailer is absolutely hilarious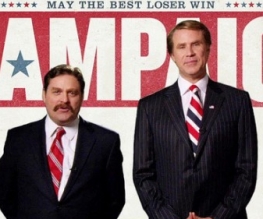 Will Ferrell? Genuinely funny? YES. But that's not the only shocker in the new trailer for Jay Roach's new politicomedy The Campaign; apparently it's not acceptable conduct at a petting zoo to allow a goat to lick your penis. Thank you, Roach, for ruining our treasured childhood memories. This trailer is red-band with very good reason – we don't recommend watching anywhere public if you value your carefully constructed outward impression of sanity.
The story goes like this: two CEOs want to gain control over their little patch of North Carolina, and so decide to craft an opposing Congressional candidate, the naive Marty Huggins (Zach Galifianakis) to go up against anally-retentive bigwig Cam Hardy (Ferrell).
The cast list reads like the Apatow-era's annual Lads on Tour roster; Jason Sudeikis (Horrible Bosses, John Lithgow (Rise of the Planet of the Apes) and Dan Aykroyd(Ghostbusters) all come along for the trip down the campaign trail. It was only a matter of time before the already-hilarious Republican fumble-roll towards defeat in the US' next election was dramatised – from the regionless, yet uniformly thick Southern accents to the inherent ridiculousness in a crowd gathering for the sole purpose of you begging for their approval and money, they seem to have the whole rigmarole spot-on.
While we're waiting for the sequel portraying the bromance in a obviously totally fictional Tory-LibDem coalition sequel, this'll do nicely.
The Campaign is due out on 28th September 2012.
Now we think about it, who should play Cleggy and D-Camz in this Oscar-winning biopic? Tell us!
About The Author