The Croods first trailer released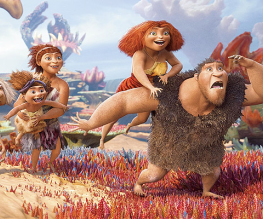 We've just seen the the trailer for The Croods, DreamWorks Animation's latest project – and we are excited! Set in the prehistoric era The Croods follows caveman Grug who along with his family is forced to leave the security of the cave he calls his home and forced to adapt to world around him. The film is slated for a 2013 release and features the voice talents of Nicolas Cage, Emma Stone and Ryan Reynolds. Check out the trailer below.
This is the fifth time that Nicolas Cage has lent his inimitable voice to an animation, and for the life of us we can't understand why he doesn't do more voice acting. The timbre and tone of his voice really lends itself to voice-work and combining that with his proven gift for comedy, (The Wicker Man anyone?) we think Cage is a great choice for The Croods. Another inspired casting choice is Emma Stone. She has a lovely husky voice and is equally gifted in the comedic-timing department.
The film looks gloriously colourful and vibrant; DreamWorks appear to have pulled out all the stops with this one, employing How To Train Your Dragon's Chris Sanders for the animation direction. When it comes to the Pixar vs DreamWorks debate, we've always erred slightly more on the side of Pixar (Toy Story is a pretty tough one to beat) but perhaps The Croods could tip the balance?
What do you think of the Croods trailer? Let us know below!
About The Author