The Crow flies once more with boyo Luke Evans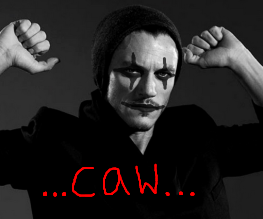 The Crow, famous for being completely kickass and the final film of Brandon Lee, is set for a remake. Luke Evans, who will play the antagonist in the upcoming Fast & Furious 6, will play the titular role of The Crow, an undead spirit of vengeance (no, not Ghost Rider) who is resurrected to teach the naughty men who killed him and his fiance a lesson. A MORTAL lesson. Featuring our avian brethren and a vat of make up. Lesson learned.
Other than Fast & Furious 6, Welshman Luke Evans has also been signed up to play the lead in Dracula Year Zero, and will also turn up in The Hobbit: The Desolation of Smaug as Bard the Bowman. It looks as though things are coming up roses for our boyo Evans, eh? Bagging the role of Eric Draven aka The Crow means he has some big shoes to fill, and only time will tell if he is leading man material.
This is the latest in a series of casting rumors for The Crow. Previous claimants to the emo makeup have been Mark Wahlberg, Bradley Cooper and Nick Cave (yes, that Nick Cave.) Let's hope Luke Evans doesn't fly the coop either.
The original film adaptation of The Crow (it was based off a 1989 comic of the same name) will always be remembered as the setting for Brandon Lee's untimely death at the age of 28. The inexperienced and (if we might add a note of judgement) incompetent props crew on the set of The Crow had been messing about with live ammunition with the gun intended for use with blanks on Brandon Lee. Unbeknownst to the crew, a primer from one of the real bullets was lodged in the gun chamber. When the time came to film the scene, the gun was not checked for obstructions, and the bullet fragment took Brandon Lee's life. What amazing life and career the son of Bruce Lee could have had, we will never know, and The Crow stands as a sad testament to what could have been.
Although we at BFF tend to disparage remakes, reboots and re-imaginings (Spike Lee shall never be forgiven for his upcoming Oldboy remake, to take a random example) the story of The Crow is so good that it deserves an update, especially if it gets people to go out and watch the original.
How do you feel about a remake of The Crow? Is Luke Evans up to the job of undead avenger?
About The Author