The Fifth Estate trailer leaks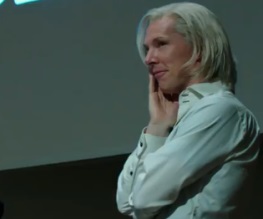 The trailer for The Fifth Estate has dropped, featuring Benedict Cumberbatch sporting floppy silver hair and an awkwardly measured Australian accent as Julian Assange, of the 'open press hero turned rapist' Assanges. There are probably totally unrelated people called Bob Assange or whatever who just have miserable lives now, aren't there? Like that sociologist Don Zimmerman, we don't envy him at all. ANYWAY, here's the trailer:
The film's based on the book Inside Wikileaks by Assange's colleague Daniel Domscheit-Berg, played by Daniel Brühl (who we've ALREADY seen in this morning's trailer for Rush), and follows the early dramatic success of Wikileaks, and the lead up to what IMDb calls an "irreparable rift" between the two friends. So it's all a little Social Network, except about government secrets instead of all of ours.
From the looks of it, it's concentrating on a man who goes from being a passionate advocate for governmental honesty, to someone carried away by his own power. This is less the story of a fallen hero than it is one of a legacy being created. And a good shot of what not to do with your hair.
Will the Assange hair become our generation's Hitler moustache? Let us know below!
About The Author