The Grand Budapest Hotel gets a trailer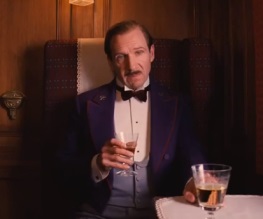 Some people make movies. Some people make magic. It's just a fact of life. Wes Anderson, with his lavish, meticulously staged adventures in whimsy is just pretty much the greatest, and the release of the trailer for his next delight has been released. Which means we're running in circles with our hands waving in the air and laughing.
The Grand Budapest Hotel stars Ralph Fiennes, mercifully replacing Johnny Depp, as Gustave H, the best damn concierge in the business. He has a protégé and trusted friend in the lobby boy (apparent newcomer Tony Revolori) who he drags into an adventure involving a stolen painting, an enormous fortune, and a pretty girl (Saoirse Ronan, who apparently got our letters vis a vis being in all the films, please). Check out the cornea-dissolvingly pastelled trailer below:
It's becoming rapidly apparent that no one cares less about anything than Wes Anderson cares about what his detractors say about him. Smashing gleefully through the glass ceiling of Wes-Anderson-ness that we all thought Moonrise Kingdom had reached, this gorgeous fever dream of mannered dialogue, ridiculous accents and staggeringly precisely composed shots is absolutely impossible to take in in one go. It's got us thinking about Kubrick and the Marx brothers simultaneously, which can hardly be a bad thing.
Also keeping with Anderson tradition is the staggering cast, combining regulars (Murray, Swinton, Brody, Schwartzmann a Wilson and MORE), reliable greats (Fiennes, Ronan, Jude Law, Tom Wilkinson) and a couple of BFF favourites (Mathieu Amalric! F Murray Abraham!).
The film's due to be released, well, sometime in the future. Till then we'll have to satisfy ourselves with endless rewatchings of Moonrise Kingdom, The Royal Tenenbaums and Rushmore. It's a hard life.
About The Author