The Hangover 3. It's happening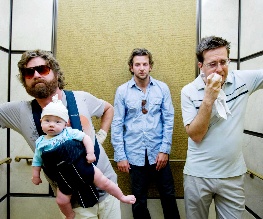 It's made over $343 million so far, people. What did you think was going to happen? Despite critics world-wide shrugging their shoulders and collectively going "plerg", The Hangover 2 has done insanely, brain-thwackingly well. And now Zach Galifianakis has confirmed that his phone has been ringing off the hook for a promise he'll join a third film. Well, this is what happens if you will insist on seeing crap films.
In an interview with Rolling Stone, the man best known for having a fairly amusing beard said that the third film would centre on his character (Alan) waking up in a mental institution (crazy people=LOLZ), with the boys left to break him out. We're not sure how reliable this is, seeing as we've also heard rumours that Todd Philips wants to set the third film in Amsterdam – perhaps an Amsterdam-based mental institution? And, like, all the boys are totally high all the time, and there's loads of sex workers, but also everyone's MENTALLY ILL and, and, oh God we're already tired.
You can take some comfort in the fact that this will be the last one. Promise. Philips has said that if he did a third film it would round off the trilogy. In much the way The Return Of The King did, but with a more significant place in cinematic history.
About The Author