The Hangover Part III declares Las Vegas the worst place on earth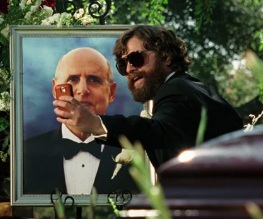 The people behind The Hangover Part III have revealed a new TV spot that sees the Wolfpack bitterly regret some of their life choices. However from the looks of the clip the trio will be making plenty more in a bid to make us laugh like mating seals. Watch the ad below, and keep an eye out for an ominous looking prison, Mr Chow leaping off a waterfall and a play on an iconic Beatles album cover.
We also see Alan, Stu and Phil in yet another lift scene – one has featured in both The Hangover Part I and Part II – and hapless Alan chased through the desert by a man wearing a pig mask. Bradley Cooper, Ed Helms and Zach Galifianakis play the trio in trouble for the third time; Ken Jeong is back as Mr Chow, while Jon Goodman stars as the big bad making the Wolfpack's lives hell.
What's interesting about this video, and the trailer that preceded it, is that there doesn't seem to be any alcohol involved. Not sure how they're planning to get a hangover without one. The Hangover III rolls out in cinemas on May 24.
About The Author