The Hobbit has wrapped!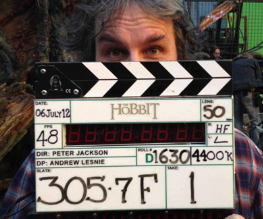 So after much debate about whether The Hobbit would ever even begin filming, Peter Jackson updated his Facebook page yesterday with this photo and the news that principal photography for The Hobbit: An Unexpected Journey and The Hobbit: There and Back Again has finally come to an end.
The shoot began its mammoth marathon back in February 2011 and hopefully this clapperboard marks the end of the road (as long as there are no re-shoots needed!) Jackson released the following statement to mark the end of the epic shoot to thank the cast and crew: "We made it! Shoot day 266 and the end of principal photography on The Hobbit. Thanks to our fantastic cast and crew for getting us this far, and to all of you for your support! Next stop, the cutting room. Oh, and Comic Con! Cheers, Peter J"
Ahhh isn't that nice? Hopefully as long as all of the post production work goes swimmingly, we can expect to see The Hobbit: An Unexpected Journey in IMAX screens and 2D and 3D theatres across the UK this December with the release of part two in 2013.
Most excitingly of all though this now means that Martin Freeman is now free to begin filming for SHERLOCK SERIES 3!!!! Ahhh..this has officially become the best day ever. http://credit-n.ru/offers-zaim/creditter-srochnye-zaymi-online.html http://credit-n.ru/offers-zaim/fastmoney-srochnyi-zaim-na-kartu.html
About The Author