The Hobbit journeys to $1 billion milestone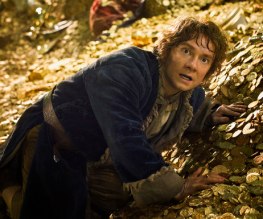 The Hobbit: An Unexpected Journey starring Sherlock's Martin Freeman has fetched $1,001,134,992 in ticket sales at the worldwide box office. The film is director Peter Jackson's return to Middle Earth after the Oscar-winning Lord of the Rings trilogy concluded way back in 2003 with Return of the King.
An Unexpected Journey is the second Jackson film to make such an achievement – the first being the aforementioned Return of the King which scooped all the awards at the Oscars in 2004.  It is also the fifteenth film to enter the billion dollar club, joining the lofty ranks of the brilliant Avatar, Titanic, Marvel Avengers Assemble, Skyfall, Toy Story 3 and The Dark Knight Rises; and the not so brilliant Pirates of the Caribbean: Dead Man's Chest, Alice in Wonderland and Transformers: Dark of the Moon.
It is the first in a glorious triumvirate of films based on J.R.R. Tolkien's book, with sequels The Desolation of Smaug and There And Back Again still to come. However, it was recently revealed that the release date of the final part in the trilogy has been pushed back to December 2014 as opposed to its original date in July of the same year. The move puts Gandalf and the gang out of direct competition with X-Men: Days of Future Past, scheduled for a summer 2014 release.
The new date of December 17 is also in keeping with the standard festive release dates of Jackson's earlier Tolkien-flavoured outings. The Hobbit: An Unexpected Journey sees original Lord of the Rings cast members Ian McKellen, Hugo Weaving, Cate Blanchett and Elijah Wood don their Middle Earth regalia once again as Gandalf, Elrond, Galadriel and Frodo respectively. Freeman's Sherlock co-star Benedict Cumberbatch makes his Hobbit debut in The Desolation of Smaug, but his sculpted cheekbones are unlikely to make an appearance as Ben will be playing the scaly fire-breathing dragon of the title. The sequel hits cinemas in December this year.
About The Author