The Host gets a brand spanking new trailer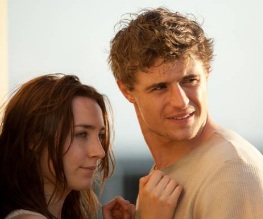 A new trailer for The Host has crept in, and it's doing absolutely nothing to convince us here at BFF that this will actually be a decent movie. The Host is based on the book of the same name by Stephenie "Twilight" Meyer, and the trailer makes sure we're well aware of that fact.
It has all the Twilight saga tropes: beautiful, loyal, virginal girl meets a handsome-but-dim lad who moves heaven and earth to save her life from a supernatural force. This trailer scrimps on the action – sure there are a few fight scenes featuring baddie Diane Kruger (what the HECK is she doing in something so lame???) but it's mostly young stars Saoirse Ronan and Max Irons kissing in the rain. The Twihards will flood in, no doubt.
The Host, set in the future, is the story of a young heroine called Melanie (Ronan) who fights to keep her mind and spirit when she is taken over by an alien race that inhabits human bodies. Along the way she falls in love with the dreamy Jared (Irons) – a young resistance fighter who is desperate for the gal he loves to come back to him. Vom.
Ronan is a highly talented actress who impressed in The Lovely Bones, Atonement and Hanna; and emerges as the one possible positive in all of this. Fans of the Twilight saga will lap this up. Everyone else might want to give The Host a miss. Check out the trailer below.
Do you reckon The Host will be better or worse than the Twilight saga? Let us know in the comments!
About The Author