The Hunger Games: Mockingjay to begin filming September 2013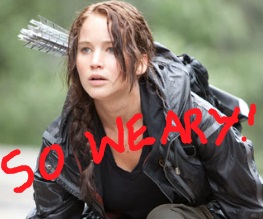 The Hunger Games: Catching Fire hasn't even hit cinemas yet (it's due out November 15 2013, just as an FYI), but producers have already planned for filming to begin on the sequel The Hunger Games: Mockingjay in September this year.
Yup, that's right; the adaptation of the final book in Suzanne Collins' The Hunger Games series will begin filming this year and, just like Harry Potter and Twilight before it, with the book split into two parts, one to be released in 2014 and one in 2015. And, naturally, both Mockingjay instalments will be directed by Catching Fire director Francis Lawrence – who also directed the upcoming Catching Fire. Well, that's according to Production Weekly, who tweeted the news to fans yesterday evening.
Spare a thought for Jennifer Lawrence – the Oscar winning actress isn't going to have a single modicum of rest now, especially as she's already busily at work with Bradley Cooper on an untitled David O. Russell project. Then she's off to reprise her role as Mystique in X-Men: Days Of Future Past. Then she'll probably be busy promoting Serena and The Hunger Games: Catching Fire. And then BAM! She's Katniss Everdeen again. At least she's got all those awards to help soothe her to sleep when she finally crawls into bed; we bet the glint of moonlight off an Oscar statuette is the most calming thing in the entire world.
Luckily Jen won't be alone in picking up her bow-and-arrow; she will, of course, appear alongside co-stars Josh Hutcherson, Liam Hemsworth, Woody Harrelson, Stanley Tucci, Sam Claflin, Jena Malone and Elizabeth Banks in the upcoming movies – and we have a feeling that the finale is set to be the most action-packed for the turbulent tribute yet.
Are you excited about The Hunger Games: Mockingjay or are you bitter about the fact it's set to be filmed in two parts? You're bitter, aren't you? We can sense it…
About The Author