The Lady star Michelle Yeoh is deported from Burma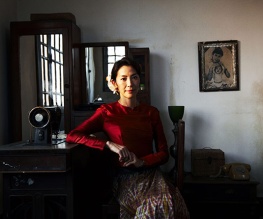 Michelle Yeoh has been deported from Burma, where she was due to meet with Burmese pro-democracy leader Aung San Suu Kyi in preparation the for upcoming biopic The Lady, in which she will star.
Yeoh flew to Yangon airport last week to discuss the film with Ms Suu Kyi; they first met in December, just three weeks after the Nobel Peace Prize-winning activist's release from seven years under house arrest. However, Yeoh was detained upon her arrival in Burma last Wednesday and sent out of the country on the next available flight.
Officials explained that her name had been blacklisted, banning her from Burma for the foreseeable future – the same fate which Ms Suu Kyi feared when her British husband Michael Aris was diagnosed with prostate cancer in 1997. He died in 1999 but she refused to risk visiting him in case she was prevented from re-entering the country.
The Lady, which tells the story of the couple's enforced separation from Ms Suu Kyi's first detention in 1989, is due out in October – Michelle Yeoh has been filming in Britain, France and Thailand in recent months. Best For Film broke the world exclusive news of Michelle Yeoh's casting back in November, so keep checking back for future developments!
About The Author