The Last Emperor realises its "destiny" with 3D screening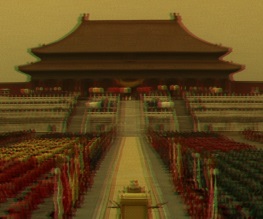 Bucking the general attitude that converting a film to 3D is like putting loads of salt on off meat, legendary director Bernando Bertolucci has praised the technological advancements that have allowed for an all-singing, all-dancing rerelease of his best known film, The Last Emperor.
The epic biographical film, which marked the first time Chinese authorities permitted filming in Beijing's Forbidden City, won nine Oscars when it was originally released in 1987. In preparation for its coming North American rerelease, it was screened this weekend at Hollywood's TCL Chinese Theatre (formerly Grauman's Chinese Theatre) as part of the grotesquely named AFI Fest. "The Last Emperor had to be screened in 3D at the Chinese", said Bertolucci. "It was the destiny of this film."
The Last Emperor has received a 3D conversion, 4K restoration and complete sound remastering – in fact, there's an interesting debate to be had about whether it's still a nine-time Oscar-winning film, given that three of its gongs were for Best Film Editing, Sound and Original Score. Although Bertolucci said at the event that his style of shooting is too "fast" for the relatively cumbersome two-camera setup required for 3D, he appears to be genuinely chuffed with the restoration (which he oversaw with original cinematographer Vittorio Storaro). "The film is not the temptation that often filmmakers have with 3D to throw, I don't know, noodles in the face of the viewers. …It's a very innocent 3D, but I think it will make you feel very much inside the Forbidden City." Let it never be said that Italians in the public eye ever miss a chance to sound vaguely racist.
What do you think of this news – a great way to repackage an iconic film, or a troubling precedent? Let us know below!
About The Author