The Little Prince gets a whole cast in one go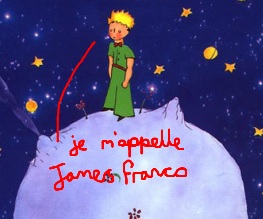 A whole pile of people have signed on for Onyx Films' animated adaptation of Antoine de Saint-Exupéry's iconic novella The Little Prince. The list includes James Franco, Rachel McAdams, Jeff Bridges, Marion Cotillard, Benicio Del Toro and Paul Giamatti, all of whom are total babes, so that part's exciting.
The Little Prince, which, according to the quick spot of research we just did, is the most read and most translated French book in the world, tells the story of a pilot who crash lands in the Sahara and gets stranded. While there he meets a young prince, who fell to earth from an asteroid. Naturally. As the pilot repairs his plane, the prince tells him stories of the adventures he's had, and things get generally whimsical and philosophical.
The film is set to be directed by Mark Osborne, best known for Kung Fu Panda and a lot of Spongebob Squarepants. Although this suggests that he doesn't have a subtle bone in his body, which is worrying, it's clear that he does at least have a love for the surreal. You need a love for the surreal if you're dealing with The Little Prince – a hat turns into a snake that's eaten an elephant on, like, page 2.
Jeff "McAwesome" Bridges is down to voice the pilot; the other actors' roles are thus far a mystery, as is the release date.
Everyone loves a whimsical fable; let's all just hope the magic survives the translation.
About The Author