The Lone Ranger trailer released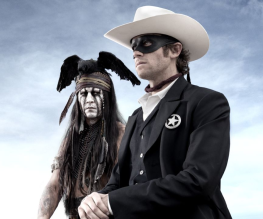 The Lone Ranger, Disney's reboot of the classic television series, has a tantalising new teaser trailer which is sure to whet the appetites of action and western lovers. The film will star Armie Hammer as the titular masked hero and Johnny Depp as his famous sidekick Tonto. The Lone Ranger has had a very bumpy ride getting to this stage of production, with the film being tossed between various production companies, undergoing several script rewrites, budget problems and the recent on-set death of a stuntman. Still, in spite of the difficulties The Lone Ranger has experienced we are cautiously optimistic that the final product will be worth the wait.
Despite the film's 18th century setting The Lone Ranger looks strangely futuristic, with lots of John Woo-style slow-motion shots and sophisticated action sequences. There is a lot of emphasis on the action and whilst it looks terrific, we would have liked to have seen a little more of The Social Network's Armie Hammer in action as the Lone Ranger and slightly less of Johnny Depp in tribal garb and speaking with an accent that made us feel uncomfortable.
We won't bother criticizing the actor for taking on yet another role which requires him to hide behind makeup and costume, it's been done. However, we will state our concern that Johnny Depp's performance could overshadow the rest of the film and potentially alienate an audience that have already voiced their disapproval at Johnny Depp's portrayal of the Native American Tonto. We're going to reserve our judgement on this aspect of The Lone Ranger until we see the film, but we remain hopeful that the big screen adaptation of the much-loved television series will be a worthy addition to the Western genre.
About The Author