The Magic Mike sequel is coming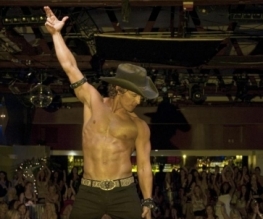 Although the first one only came out about a nanosecond ago, Channing Tatum has already confirmed to Glamour UK that work on the sequel to Magic Mike is underway.
When asked, Tatum confirmed that they are "working on the concept now", and want to "flip the script, make it bigger and better." Thinking for too long about exactly how Big Dick Richie could conceivably be any bigger is honestly a bit much for us. Making the film makes an incredible amount of sense; director Steven Soderbergh only had a $7 million budget (just enough money for gym memberships and stocks in Gillette) for Magic Mike, and the film has already pulled in $72 million in three weeks of general release in the US. With the equally lascivious UK set to follow suit, for the sake of vaginas everywhere, it would be silly not to.
Joe Manganiello hinted at the idea of the next incarnation of Magic Mike being a prequel rather than a sequel a couple of months ago, so as not to lose Channing Tatum's character. Because even Manganiello knows that no one wants to see Magic Mike: The Pettyfer Poontang Pilgrimage. Having just seen the film, BFF would be in full support of a tale of Channing and Co.'s overtly homoerotic, acid-tripping journey of self-discovery across Florida before finding themselves stranded in Vegas with only one way of getting out…God, WHY isn't this film already in production?
About The Author