The Oogieloves (?) score worst US opening weekend of all time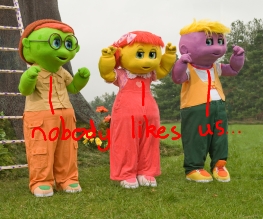 Stop all the clocks – some film we've literally never heard of is gearing up to become the year's biggest failure.
The Oogieloves in the Big Balloon Adventure, which is inexplicably not a spin-off from a popular children's TV show but an attempt to get toddlers interested in a completely new set of stupid fucking Tweenie rip-offs, grossed a dismal $448,131 from 2,160 theatres over the weekend. EW has helpfully worked out that assuming an average ticket price of $7 (which seems terribly cheap to us, but whatever – blame the Tories, probably), The Oogieloves was seen by something like ten people per cinema per day. TEN.
The 'brains' behind this spectacular flop belong to Kenn Viselman, who masterminded the Tellytubbies' US debut. We think we'd have spotted that things weren't quite right around the same time we noticed that the distribution company had only handled one full-length film before… Uwe Boll's vampire Nazi video game adaptation BloodRayne. The writing was on the wall, chaps.
Anyway, enough talking. Watch the trailer – we had to, it's only fair.
Christ knows you can't pick up much of an idea of what's going on (apart from that those cinemas are clearly not fucking real, since they aren't empty), so here's the Wikipedia plot synopsis:
On Schluufy's birthday, the Oogieloves (Goobie, Zoozie and Toofie), and their friends J. Edgar, Windy Window and Ruffy, work on organizing a party. Everything is going as planned until J. Edgar trips and loses the last five magical balloons in all of Lovelyloveville, prompting The Oogieloves set out to find the magical balloons in time for the party. Along the way, they meet Dotty Rounder (Cloris Leachman), Bobby Wobbly (Cary Elwes), Marvin Milkshake (Chazz Palminteri), Rosalie Rosebud (Toni Braxton) and Lola and Lero Sombrero (Christopher Lloyd and Jaime Pressly).
Cary Elwes. Christopher Lloyd. We said CHRISTOPHER LLOYD. What on earth has happened to these poor sods? We sincerely hope that the lion's share of the $20m it cost to produce The Oogieloves went straight to Doc…
Do you have a single coherent opinion about this garbage? Nope, neither do we.
About The Author