The Paperboy trailer is out and we are petrified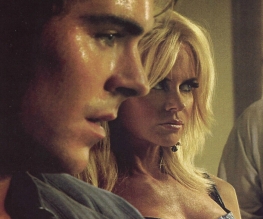 Lee Daniels, we are so, so confused. This is the most awkward, fumbly, squinty two-and-a-half minutes we've spent in a very long time, and all of the BFF team have had sex fairly recently. So well-played and all, Daniels, and after Precious, we were fully expecting to be royally fucked up by whatever you brought out next, but Christ. Have a look:
We can't quite get a handle on what exactly The Paperboy is supposed to be about. Nicole Kidman's this preening Southern minx, a hot mess of eyeliner, ineffective anti-psychotics and about four push-up bras, Zac Efron's role seems to be a carousel of pretty, pained and naked in equal amounts, and Matthew McConaughey (Magic Mike) is a scrawny greaseball who only gets greasier as the trailer goes on. All we can see is that there are at least eight different genres and a lot of guns, plus a tremendously varied sequence of crazy people.
Upon further research, we've discovered that Kidman (Moulin Rouge!) plays Charlotte Bless, who is one of those women who writes needy torture-porn letters to inmates on Death Row. She ends up wrangling McConaughey, a Florida reporter, and his baby brother Zac Efron (The Lorax) into helping get her prisoner of choice, John Cusack, out. Though it reads like a basic crime thriller; as you can see, it's patently not. It's reeling, sweaty, aggressively bright, Southern-to-the-hilt and totally disturbing; therefore, we need to see it.
The Paperboy is scheduled for release "sometime" in 2013.
About The Author