The Phantom Menace joins billionaires' club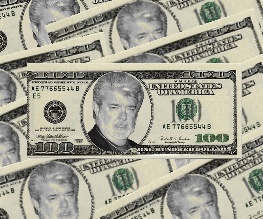 Thanks to its cynical and utterly needless 3D rerelease, Star Wars: Episode I – The Phantom Menace has become the eleventh film ever to take more than one billion dollars worldwide.
The $73.4 million which has been added to the 1999 film's total since it reopened in cinemas two weeks ago has bumped it to $1.0004 billion. We think it's worth pointing out that that mimsy little '.4' there is still four hundred thousand dollars, which is the cost of approximately nine seats to a 3D film nowadays.
Episode I is now only one and a half million dollars behind The Dark Knight, currently the tenth highest grossing film of all time (the rest of the top 10 is largely ridiculous, containing as it does two of the shit Pirates of the Caribbean films and Transformers: Waft of the Sphincter or whatever), so it looks like George Lucas will soon be wresting his 'Top 10 club' medal from poor Christopher Nolan. If it's any consolation, there's almost no chance of any of the other Star Wars films ending up hitting the big one-oh-oh-oh-oh-oh-oh-oh-oh-oh – the second highest-grossing instalment was *sigh* Revenge of the Sith, and it would need a hefty $152m gross second time round to make the big time.
Also, none of these numbers are adjusted for inflation. Anyone else thinks that makes them totally fucking pointless, or is that just us?
If you're not weeping tears of blood yet, just go and stand behind a Podracer engine.
About The Author