The Prequel Post-Conversions Continue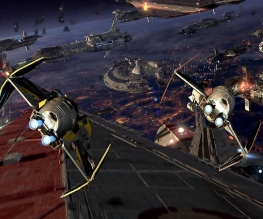 Six months on from the 3D re-release of George Lucas' Star Wars Episode I: The Phantom Menace, the franchise's official twitter feed has announced the release dates of both Attack of the Clones and Revenge of the Sith.
Slated for release on September 20th and October 11th, 2013 respectively, Episode II and III will likely reach U.K. cinemas around the same time – as proved the case with Episode I back in February.
While the 3D overhaul will obviously do nothing to remedy the wooden performances, unspeakable dialogue and dour tone that plague the prequels, there is no denying that some of the set pieces will dazzle with the new dimension. As with Phantom Menace's pod race, Attack of the Clones' battle of Geonosis and Revenge of the Sith's opening dogfight could suit the format well.
Will you be going along to see the rest of the prequel trilogy in 3D? Tell us in the comments section below.
About The Author