The Rock hints at DC project for 2014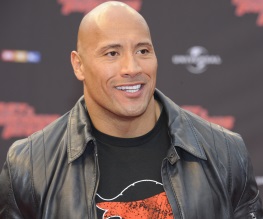 Dwayne 'The Rock' Johnson, our absolute favourite wrestler-turned-actor who is also a member of the Samoan royal family or something, has already got a pretty substantial 2014 lined up; Hercules: The Thracian Wars is due out in a few months and production is presumably due to restart on the sadly delayed Fast and Furious 7. Plus there's Lore, San Andreas, possibly Journey: from the Earth to the Moon and something called Ballers that we don't know anything about. But it's not enough.
In the latest of his regular #RockTalk sessions on Twitter, Johnson revealed that he's in deep with Warner Bros. with reference to a possible DC project for 2014. Here's the tweet:
We just had a big meeting w/ Warner Bros CEO re: @DCComics 2014 we will partner up and create the cool bad assery. #RockTalk @ActionTilson

— Dwayne Johnson (@TheRock) December 31, 2013
NOW. We initially assumed that this meant the Lobo film was coming out of mothballs, but it doesn't seem super likely that such an odd little offshoot project would be restarted when DC needs to concentrate on reducing Marvel's lead in the superhero stakes. However, Lobo's such a perfect character for The Rock that we can't quite give it up altogether. Could he be playing the big blue motorbiking interstellar bounty hunter in Batman vs. Superman? Or – assuming the rumours about both Joaquin Phoenix and Bryan Cranston are debunked – could we see him as Lex Luthor?
Of course, the odds are that Dwayne is lined up for another role altogether – we speculated about The Rock playing either the second Gravedigger or John Stewart, late of the Green Lantern Corps, a couple of years ago, and as of now both roles remain up for grabs. it's all to play for in Zack Snyder's most ambitious film yet, but we're a damn sight happier now it looks like The Rock's going to be involved.
Which DC character do you think The Rock will be inhabiting? Let us know below!
About The Author