The Rock joined by Rufus Sewell in Hercules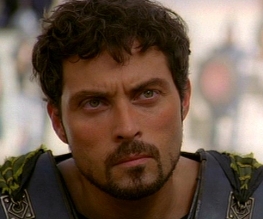 Hercules: The Thracian Wars is shaping up to be quite the coveted project. Not only is Dwayne 'The Rock' Johnson playing the titular role but it has also manage to score Aksel Hennie for the character of Tydeus and now Rufus Sewell in the part of Autolycus.
The MGM production is being helmed by Brett Ratner (who brought us Horrible Bosses) and has already had release date moved up to the 25th of July, 2014. Ryan Condal's adaptation is based on the graphic novel by Steve Moore and Admira Wijaya, with rewrites being supplied by the kid-friendly veteran, Evan Spiliotopoulos.
Hercules: The Thracian Wars takes place after the Twelve Labours, when Hercules is a man who has lost his family, turned his back on the Gods and only finds solace in bloody battle. Now nothing more than a mercenary, he is hired by the King of Thrace to train his army and instill in them the same ruthless, blood thirst.
Could this turn out to be a PG-13 muppet? Or will The Rock bring the pain with a gritty Hercules that would make the Greeks proud? 2014, you're just too far away!
About The Author