The Wolf Of Wall Street first trailer – it's mental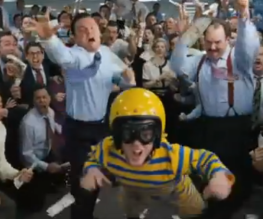 The Wolf Of Wall Street, the next project by legendary director Martin Scorsese that sees him team up once again with his muse Leonardo DiCaprio, has been given a thoroughly insane trailer. It's just completely bonkers. Set to Kanye West (there does seem to be an over-abundance of trailers with Yeezy at the moment, doesn't it?) The Wolf Of Wall Street looks to be a fantastic explosion of money, chimps, and suits.
Revolving around a massive fraud and the devious greedy methods brokers use for personal gain, The Wolf Of Wall Street features some enormously talented actors (and Jonah Hill) going head to head. It's a little overwhelming actually. If anyone could pull off the balancing act between such an inspiring cast, it's Martin Scorsese. Also, we're massive Matthew McConaughey fans here at Best For Film, so he'd better slither out of that expensive suit ASAP.
We'll have plenty of time to get used to the mania shown in the first trailer for The Wolf Of Wall Street – it's set for a January 2014 release in the UK, a good 2 months after the US release – but until then we'll continue to have the feeling that we're in an insane asylum for the incredibly rich. Expect all the news from The Wolf Of Wall Street as we hear it!
What did you think of The Wolf Of Wall Street trailer? Does it look like a nuanced deconstruction of hurbis? Or a circus funhouse?
About The Author