The Wolf of Wall Street gets a brilliant new trailer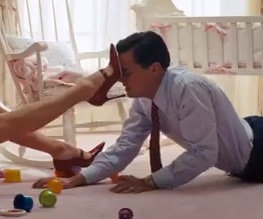 One day after The Wolf of Wall Street was confirmed for a Christmas Day release in the US, a new trailer has landed – probably to thank us for our patience. Sadly it doesn't feature star Leonardo DiCaprio's Jordan Belfort popping and locking, but it hasn't let up on the ridiculous.
Focusing more on Jonah "I was in Django Unchained for all of twenty seconds" Hill, we get a sense of the film's plot this time instead of a string of visual gags. One moment to look out for is a funny exchange between Belfort and his father as he tries to explain away a $26,000 dinner. Major props to DiCaprio for being able to pull off being 22 – Jordan's age at the start of the film.
The film looks like wild fun with plenty of drama thrown in for Leo to get his acting chops around. BFF are crossing everything – even our SOULS – in the hope that Martin Scorsese's latest will be the one that finally gets Mr DiCaprio his Academy Award. However, the festive release puts it in the running for next year's Oscars and with the likes of Twelve Years A Slave, Captain Phillips, Her, Prisoners, and Inside Llewyn Davis all jostling to get in line for the prestigious gongs, competition in the best actor category is looking fierce as hell. And if that wasn't disappointing enough, The Wolf of Wall Street won't be arriving on these shores until January.
What do you make of the trailer? Let us know below. SPOILER: It's good.
About The Author