The Wolverine gets a fancy motion poster. It's a beauty!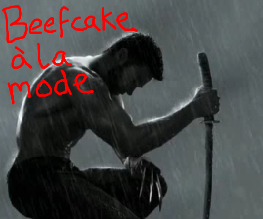 The Wolverine has begun the media build-up for its 25th July release in the UK, and we must say it's hit the ground running. After the festival of crap that was X-Men Origins: Wolverine, it was exceedingly exciting to have received the first minimalist teaser poster for The Wolverine, but now we've been given something far more stimulating.
Check out this utter scamp of a poster:
[swfobj src="http://www.thewolverinemovie.com/poster.swf" width="507″ height="750″]
Just LOOK AT IT. The Jacked Man Hugh Jackman sitting atop a decorative Japanese roof in the rain, topless no less, would have been enough to whet our appetites for The Wolverine, but then there's so much more! He has a goddamn katana. Quite why Wolverine needs a katana is beyond us: he's already got unbreakable knives poking out of his fists, as we can clearly see in the poster: possibly mastering the katana will go someway towards Wolverine's samurai-ing around.
Then we have the Tokyo skyline, with which the poster designers have taken a few creative liberties. Tokyo Tower, for instance, isn't nearly the tallest structure in the skyline. This Tokyo looks more like how it looked back when Tokyo Tower was first built back in 1958. Although The Wolverine director James Mangold has said that the film will take place after X-Men: The Last Stand, could this poster be hinting at an earlier time setting? It's probably just reflective of creative license, but what the hey, we like to speculate about the trivial.
The Wolverine throws a lonely, loveless and lackluster Logan into Japan, where he develops a relationship with one Mariko Yashida. Unfortunately, her father just happens to be a Yakuza boss. Sorry, Logan, there's killing to be done before you can get your end away!
Need we say how super excited we are for The Wolverine? Could we possibly be in store for a worthy Wolverine-centric film? Don't forget that Famke Janssen could pop up in The Wolverine! Hugh Jackman will also be shoving his grizzled mane into X-Men: Days of Future Past. The film has also made our list of the Top 20 films in 2013. The Wolverine is getting around!
Are you as excited for The Wolverine as we are? Or did X-Men Origins: Wolverine poison you against the whole idea?
About The Author