The Wolverine poster is a work of art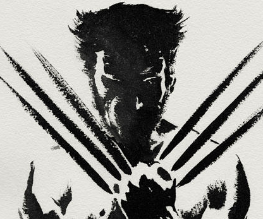 An unbelievably beautiful poster for The Wolverine has slashed its way onto the net, in a traditional Japanese print style. Minimalistic, yet harking back to both The Wolverine's comic book roots and the setting of Japan, the poster is a stark, instantly recognisable silhouette. The inkan (red stamp) print in the bottom left is a lovely little touch too. It feels distinctly nostalgic, yet fresh and exotic.
Click to embiggen (you really must take a look!)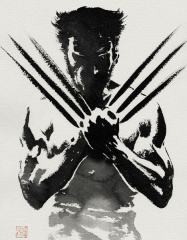 Along side the new poster, a steaming dollop of fresh details about The Wolverine has also landed. An interview from the set of The Wolverine with director James Mangold and The Wolverine himself, Hugh Jackman (The most Jacked-Man we have ever seen) sets the timing of the film after the events of the X-Men trilogy, and finds our exceedingly-heavy hero again without any ties to the world. James Mangold also says that he wishes to pull things back from the rip-roaring (and completely naff) X-Men Origins: Wolverine, instead focusing more on the character development present in Frank Miller's comic that this film is being adapted from (yes!).
The interview goes on to reveal that James Mangold is looking to make Logan much more vulnerable in The Wolverine, since previous to this he feels that Wolverine has had the Superman syndrome, being so darn powerful that any tension or fear for the character's safety is absent. The words "Wolverine's Kryptonite" have been mentioned. We can only hope that it doesn't puncture this movie like an adamantium bullet to the head.
Talking about gorgeous posters, take a look at the Argentinian pin-up for Django Unchained released last week. Hard to choose which one is more beautiful, really.
All these details have sparked a restrained level of excitement for The Wolverine here at Best For Film, but we won't keep our hopes up. We've been burned too many times before, and these scars are still fresh *sob*. The James Mangold/Hugh Jackman interview from the set of The Wolverine can be found here:
Movie posters are an art form, and it looks like Hollywood is starting to realise that just making everything blue and orange isn't enough. What are your favourite movie posters?
About The Author