The World's End gets synopsis and start date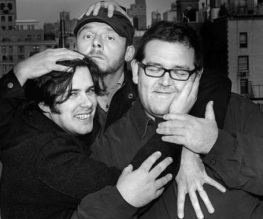 The World's End, the long-awaited third collaboration between director Edgar Wright and actors Simon Pegg and Nick Frost, has finally been given a start date.
The sort-of sequel to Shaun of the Dead and Hot Fuzz, part three of the 'Blood and Ice Cream Trilogy' (also known as the 'Three Flavours Cornetto Trilogy', confusingly) is due to begin shooting this September in advance of a planned Spring 2013 release.
Distributors Universal Pictures haven't technically green-lit the threequel yet, although it's practically a formality after the surprising financial success of Pegg, Wright and Frost's previous collaborations. We've also found out a bit more about its plot (look away if you don't like spoilers):
Twenty years after attempting an epic pub crawl ending at the World's End, five friends reunite to relive their alcoholic masterwork – they're persuaded to do this by Gary King, a 40yo man who never left his home town (or his teenage years, by the sound of it). Then, as the pals try to make it to the World's End, they realise they're also racing to save humankind from God knows what. Cue Dylan Moran getting eaten.
Okay, you can look back now – it's fine, it doesn't really make much sense anyway. The main point is WRIGHTPEGGFROSTEEEEEEE!
Want anything from the shop?
About The Author