There's Something About Mary voted best hangover film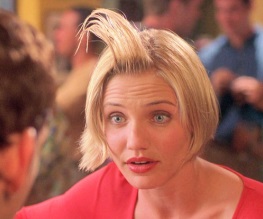 A recent poll of over 1600 UK film fans revealed that nothing hits the spot after a heavy night like 1990s cult classic There's Something About Mary. The rom-com, which stars Ben Stiller and Cameron Diaz (with Lee Evans, of all people), got 14% of the vote in a LOVEFiLM poll to find Britain's favourite hangover film. It's not the flick's first award, either – back in 2000 it came fourth in TotalFilm's poll of the greatest comedy films of all time.
Directed by Dumb and Dumber creators the Farrelly Brothers, There's Something About Mary was one of the most successful of the rom-com/gross-out films that defined the post-John Hughes, pre-Frat Pack era of American comedy. The film follows Diaz' character Mary and her hapless high school suitor Ted, who hires a private detective to track her down after years of heartache. With supporting turns from Matt Dillon, Sarah Silverman and, for some reason, NFL legend Brett Favre, There's Something About Mary's awkward romance, scatological humour and people saying 'retard' a lot proved to be an enduring mix.
Lightweight comedies were very much a feature of LOVEFiLM's poll, with two spy pastiches taking the other medals. Austin Powers: International Man of Mystery came in second, whilst the tragically Malkovich-free Rowan Atkinson vehicle Johnny English Reborn squeaked into third place. Kristen Wiig's Bridesmaids came fourth (we don't know why so many gross-out films are in the top five, when we're hungover we absolutely do not want to see people making a mess in a bath), and the late Heath Ledger took fifth place with A Knight's Tale.
What's your favourite film to watch when hungover? Ours is Apocalypto; it all makes a bit more sense when you feel so ill you can't see.
.
About The Author