This is 40 drops yet another trailer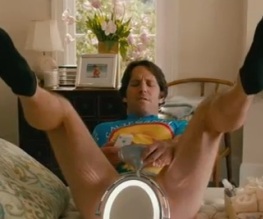 This is 40 is set for a Valentine's day release over here in Blighty, and in advance of Judd Apatow's latest chronicle of issues facing well-off white people, there's been a steady stream of clips and trailers floating around the internet. The latest red-band trailer – preview speak for naughty language – has popped up, and has all the fog-eyed Paul Rudd-ness and perving on Megan Fox you could hope for.
After the relative boredom of Funny People, Apatow really needs to come back swinging. From everything we've seen thus far concerning This is 40, it looks like a further retreat into the comedy of suburbia and away from the stoned warmth provided by The 40 Year-Old Virgin and Knocked Up. We'd trade our thumbs for another twenty minutes spent in the company of the Smart-Tech guys.
There's humour to be wrung from getting older, it's one of the ripest subjects imaginable. But if This is 40 is anything like a very extended version of the consistently flat exchanges dominating all of its trailers and clips, Apatow is in danger of his latest observation on married life coming off as therapy more than anything else. Maybe Megan Fox's boobs and lack of underwear will save the day, as most of the advance clips suggest.
About The Author