This is 40 new clip and featurette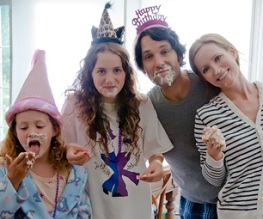 This is 40, Judd Apatow's delayed not-sequel to Knocked Up, will finally be released on December 21st. To prove it definitely does exist and hasn't just been gathering dust at Universal, we've been gifted a shiny new clip and a mini featurette featuring Jason Segel perving on Judd Apatow's wife. Apatow's retinue has always come over like one big family, anyway. In the clip, Leslie Mann and Paul Rudd describe to each other in loving detail how they would kill each other, which is cute. But yes, we thought the same thing: Why would anyone ever want to harm lovely Paul Rudd?
This is 40 is another signature epic comedy from Apatow's stable, and follows Knocked Up's Pete and Debbie as they navigate the saggy mid-section of any long-term marriage. Think of it as Amour: The Early Years. We love Apatow, but he's got something to prove since Funny People revealed itself to be such a dud. It's main flaw was being a 2+ hour comedy about a comedian much like Adam Sandler (played by Adam Sandler) being diagnosed with terminal cancer and then not dying. Way to stick it to the audience, Judd! This is 40 finds him back in familiar-er territory, with a host of juicy bit parts sprinkled – always the best thing about Apatow's films – around the fringes of Rudd and Mann's marriage. The bit in the clip where Mann says she'd like to nurse Paul Rudd as she slowly poisons him is appealing. We would love to take care of a poorly Paul Rudd.
About The Author