Thor & Captain America sequels already confirmed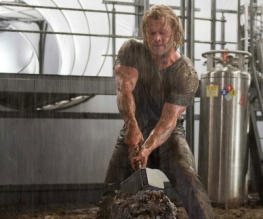 Marvel Studios is so convinced their upcoming superhero films Thor And Captain America will be monster hits that they've already ordered sequels.
Marvel Studios president Kevin Feige revealed the following news in an interview with Disney Magazine D23:
"Thor will go off into a new adventure, and Captain America will continue to explore the modern world in another film of his own. We hope that holds true for the characters appearing in that film – Black Widow, Hawkeye, and the spy organization, S.H.I.E.L.D. – all of whom are more than worthy and capable of carrying their own films. And we've got a lot of other characters we're prepping and getting ready for film debuts: the world of martial arts, these great cosmic space fantasies, Dr. Strange, and the magic side of the Marvel Universe. There are many, many stories to be mined."
Since Disney bought The Avengers from Paramount they're clearly taking this superheroes lark very seriously indeed.
Here's a thought: Fewer superhero films, better scripts? Just throwing it out there.
About The Author