Thor: The Dark World gets first trailer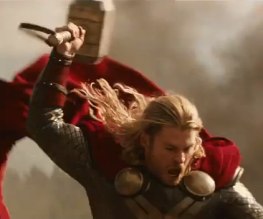 Marvel doesn't exactly keep us short of treats when it comes to its slate of unreleased superhero flicks – we've published 9 Iron Man 3 stories since February – but it's been a while since we've heard anything about Asgardian adventure Thor: The Dark World. Well, happily, the wait is over – and although the trailer below has a bit too much Natalie Portman and not nearly enough naughty elves, we're pretty much wetting our armour with excitement all the same.
Watch this. HAMMER!
God, it's good to see Thor back. Touring around the world from London to the Bay, Chris Hemsworth is back on full throttle as the scion of the technomagical world of Asgard, arguing with Anthony Hopkins' Odin (albeit in voiceover mode) as the threat of the Dark Elves of Svartalfheim looms over Midgard (that's Earth). He may have learned some humility over the last two films, but is Thor fighting for Earth or for his girlfriend Jane Foster (Portman)? It certainly looks like Chris Eccleston and his elfen pals are going to be using her as a bargaining chip in the impending war, which is a shame – the usually brilliant Portman was lost in the noise and fury of Thor, and there's nothing here to suggest that she'll be on better form in The Dark World.
Do you know what isn't a shame, though? LOKI TIME YES YES OH GOD YES GIVE US LOKI. We're guessing he'll stay chained up for now – two daring escapes in two films would be a tad bit silly – but any appearance from Tom Hiddleston is bound by immutable universal law to make a film up to 40% better, so that's good. Unfortunately, that's all we have for you for now – Thor: The Dark World will be out in October, but given Marvel's track record we'll be utterly sick of it by then.
What do you think of the new trailer? Let us know below!
About The Author