Timothy Olyphant to be The Man on Carrion Road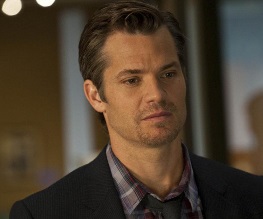 Timothy Olyphant has been cast in The Man on Carrion Road, the new project from Spanish filmmaker Gonzalo López-Gallego. Described as a "visceral" thriller, the film is the story of a town's new sheriff (Olyphant) who must team up with the retired sheriff he replaced to investigate the source of a botched cartel deal, in order to stop a dangerous cartel thug who is butchering the town's residents. Nils Lyew will be writing the script.
This film sounds intriguingly grim and violent, and the casting of Olyphant is an interesting choice. He is already flexing his acting muscles in Justified, and prior to that he played a sheriff in TV's Deadwood, so it's safe to say this might be what inspired his being chosen for the role.
Bear in mind though, this is the same Olyphant who shaved his head and waved guns around in the atrocious Hitman movie based on the game of the same name. We're reserving judgement until Carrion Road is released. Filming is set to start in Columbia this August.
About The Author