Tom Cruise a definite for Mission: Impossible 5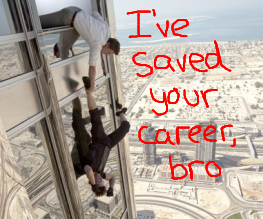 Tom Cruise has an odd little fanbase amongst the Best For Film gang (yes we're a street gang, we dance and everything). Our qualified fandom peaked in 2011 with Mission: Impossible – Ghost Protocol, which was a highly enjoyable romp, albeit with some pointless plot developments. It was well received and financially successful, so it comes as no surprise that Tom Cruise has signed up for Mission: Impossible 5.
Currently in talks to direct the 5th installment in the generally-decent Mission: Impossible franchise is Christopher McQuarrie, who most recently directed the criminally underrated Jack Reacher. McQuarrie is better known as a writer, especially for Tom Cruise films, and is already writing Mission: Impossible 5. Other screenplays he has received writing credit for are Valkyrie (with Tom Cruise), Jack Reacher (more Tom Cruise), Jack the Giant Slayer (no Tom Cruise!?) The Wolverine (NOT ENOUGH TOM CRUISE), All You Need Is Kill (maybe too much Tom Cruise) and Top Gun 2 (okay guys, get a room).
Whether or not McQuarrie lands the job of director, Mission: Impossible 5 should be a gadget-ridden Tom Cruise-a-thon, which is just what we like. Expect to see Ethan Hunt using a digital camera to stop a terrorist dinosaur or something in 2015 when Mission: Impossible 5 is slated for release, barring any unforeseen circumstances, such as the world ending.
Tom Cruise IS Ethan Hunt for the 5th time. Excited? What did you think of Mission: Impossible – Ghost Protocol?
About The Author