Tom Cruise joins another sci-fi project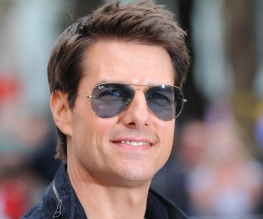 Tom Cruise seems to have developed a fondness for science fiction in his middle-age. Are we allowed to refer to Tom Cruise as middle-aged now? It feels weird, but he is 50 years old, so we should probably get used to it. And so should he, for that matter. Having just completed shooting director Joseph Kosinski's sci-fi spectacular Oblivion, and signing up for Doug Liman's All You Need Is Kill, Tom Cruise has put another sci-fi flick on his schedule in the shape of Our Name Is Adam.
The film is written by T. S. Nowlin, and while Nowlin doesn't currently have his name on any released films, he has scripted Rise of the Planet of the Apes director Rupert Wyatt's new film, Agent 13. The plot for Our Name Is Adam is thus far a secret, but it does come in the form of that rarest of Hollywood commodities – an original script. Given the title, and the genre, we're speculating on some sort of clone-based plot. A love interest called Eve, perhaps?
Whatever it's about, Tom Cruise is going to be a busy boy trying to squeeze it in. With another Mission Impossible movie likely, and potential reboots of The Magnificent Seven and Van Helsing also on his radar – as well as the above mentioned sci-fi epics – Tom Cruise's recent transition to singledom seems to have massively boosted his work ethic. And his predilection to science fiction probably shouldn't surprise us, given that Tom Cruise has been a leading member of a bullshit science-fiction cult for years now. Perhaps acting in science fiction films brings him closer to ascension to the next level of fucking mental?
Whatever the reasons, if they turn out to be as good as Tom Cruise's past forays into the genre (Minority Report, War of the Worlds), then we're entirely okay with it!
Are you looking forward to more Tom Cruise sci-fi? Sound off below!
About The Author