Tom Cruise kicks ass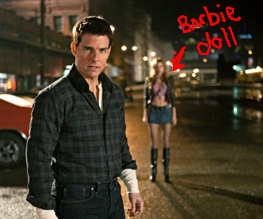 Tom Cruise, everyone's favourite gun-toting, rubber-burning, sofa-jumping, Scientologist midget returns to our screens on Boxing Day as the vigilante hero of Lee Child's One Shot in Jack Reacher. What's that tiny package under my Christmas tree? Tom Cruise beating the Christmas crap out of men twice his size whilst making anti-establishment quips and saving lots of poor, defenceless, but beautiful, women? OH SANTA CLAUS, HOW DID YOU KNOW?!?!
The latest clip to emerge from the cavernous mouth of Paramount Pictures sees Cruise take on five baddies at once, schooling them in the ART OF PAAAAAAIN! And, yes, obviously he is very good at it, and, yes, we are very aware that it is a lazy joke to mock Tom Cruise's diminutive stature because he's an easy target (which actually isn't true, trying to hit a small person moving at speed is like Whac-a-Mole). Anyway, to make up for it, Tom Cruise, here's the clip of you being a bit cool. If violence is ever cool. Which it's not.
The mysterious Jack Reacher materialises out of thin air to help da cops nail the sniper shooter of five people in a rush-hour crowd. However, the prime suspect turns out to be innocent and only Tom Cruise can help uncover the real baddie! Cue criminal-bashing set to Cruise-control. Jack Reacher does boast some quality star power; directed and written by Christopher McQuarrie, him of the Oscar-winning The Usual Suspects screenplay, with Cruise's clever-but-constantly-in-need-of-saving love interest in the Bond girl form of Rosamund Pike (who is actually wonderful). This new clip opens with a Tom Cruise stinger: 'Remember, you wanted this.' OUCH, TOM CRUISE! Which is probably a horribly accurate summary of this film. Cruise, for all his tiny, crazy faults, does what he does well and, if this clip is anything to go by, Jack Reacher is set to be as painfully entertaining as everything else he does.
Released on Boxing Day – this should go down a storm with Nanna in between the Charades and the turkey sandwiches. Make a nice chance from Ratatouille anyway.
What film will your family be watching this Boxing Day? The Exorcist, anyone?
About The Author