Tom Cruise says G.O.O.D.B.Y.E. to U.N.C.L.E.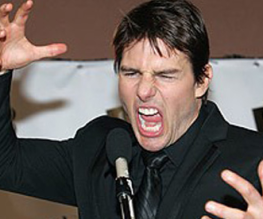 Tom Cruise has dropped out of the movie remake of the classic 1960s TV show The Man From U.N.C.L.E. in a shockingly smart career move. With Mission: Impossible 5 demanding both acting and producing responsibilities from Tom Cruise, U.N.C.L.E. proved to be bad timing. Director Guy Ritchie must be beside himself – the film is set for production this autumn. They had better find a replacement soon. Tom Cruise was their only selling point!
The Man From U.N.C.L.E. is the story of Napoleon Solo and Illya Kuryakin, two secret agents for the United Network Command for Law Enforcement (hence the rather protracted title), who fight the forces of Thrush (yes, seriously). It sounds a little similar to Mission: Impossible quite frankly, so perhaps Tom Cruise would have been a bit of a redundant choice anyway.
Tom Cruise has rather a lot on his plate at the moment. All You Need Is Kill is filming right now, his name has been suggested for a Van Helsing reboot (PLEASE GOD NO) and he's got his Mission: Impossible 5 duties to attend to.
We'd like to say we're interested in The Man From U.N.C.L.E., but now that mega-super-star Tom Cruise has left, not even Guy Ritchie can make the project seem alluring. Maybe if they got Dwayne 'The Rock' Johnson in as Napoleon Solo we'll start paying attention again.
What other actors has the same gravitas and professionalism as Tom Cruise? Can anything save The Man From U.N.C.L.E.?
About The Author