Tom Hardy to play Capone in Cicero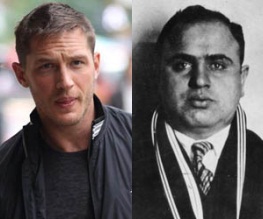 Fresh from the grounds of Hogwarts and the world of Harry Potter, director David Yates has been linked to the new Al Capone biopic Cicero. Considered to play the starring role is none other than hunky British actor Tom Hardy.
Inception and The Dark Knight Rises star Hardy is being looked at to play the man himself, Al Capone in the film written by Walon Green. The story focuses on Al Capone's rise to power moving from the slums of Brooklyn to the top of the world in prohibition-era Chicago.
If that wasn't enough, there is also talk of developing Cicero into a possible trilogy, with the first film tackling Capone's rise and the following film (or films) marking his reign and eventual downfall.
It sounds like there is still a lot of work to be done, but the honchos and Yates are fighting to get it in front of cameras before Hardy heads to Australia next spring.
Let's hope the path is smooth on the road to gangster film success.
About The Author