Tom Hardy to play Elton John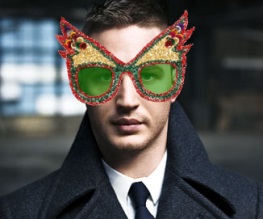 Man of the moment Tom Hardy has signed up to play Elton John in Rocketman, a forthcoming biopic of the legendary musician.
Hardy, who has shone in a litany of critically acclaimed (and action-heavy films) including Inception, Warrior, Tinker Tailor Soldier Spy and The Dark Knight Rises, might not be the most obvious choice – but considering the endless debate over who's going to play Freddie Mercury, we imagine the producers are just glad to get his name on the dotted line.
Directed by Michael Gracey, the man directing Hugh Jackman in forthcoming P.T. Barnum biopic The Greatest Showman on Earth, Rocketman will follow the entire life story of Sir Elton Hercules John (he changed his name from Reginald Kenneth Dwight in 1972, and who wouldn't?) from his inauspicious upbringing in Pinner through his meteroic rise to stardom. We know that John himself will be rerecording some of his biggest hits for the soundtrack, although there's no word yet on whether Hardy will be doing any singing himself.
Rocketman is scheduled to begin production next autumn, shooting from an original script by Oscar-nominated screenwriter Lee Hall, who wrote the screenplay for Billy Elliot and then collaborated with Elton John on the award-winning musical version. We're guessing that by then we'll know a lot more about it. Watch this space!
Can you believe Tom Hardy is only an inch taller than Elton John? We were very surprised.
About The Author