Tom Hiddleston to star in Coriolanus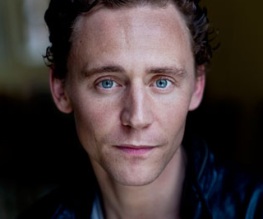 Everyone's favourite trickster god Tom Hiddleston is set to return to Shakespeare, theatre and brandishing his massive weapon (oh, has he not done that yet? Hope springs eternal) this year in a new production of Coriolanus.
Hiddleston, who shot to global prominence in Thor and has since captivated audiences in The Deep Blue Sea, War Horse and Avengers Assemble, has seized the lead role in the bloody tragedy most recently interpreted by Ralph Fiennes in his self-directed film version. He will play opposite League of Gentlemen and Sherlock star Mark Gatiss, who makes his professional Shakespearean debut as the scheming senator Menenius Agrippa.
If we're honest, both bits of casting have left us pleasingly baffled. Fiennes' production, which co-starred Gerard Butler as Aufidius, demonstrated how well a commanding physical presence suits both roles, with Fiennes' icy bald fury perfectly balanced against Butler's furry ferocity; neither Hiddleston nor Gatiss is memorably butch, which is interesting in itself. Coriolanus is a blunt career soldier disgusted by the public and wrong-footed by the political establishment, and Hiddleston's history of smooth and unctuous roles makes him a pleasingly counterintuitive casting choice by director Josie Rourke. Meanwhile, Gatiss' quiet intensity as Mycroft Holmes has certainly demonstrated the steely reserves necessary for the role of Menenius, a consummate politician who panders to the crowds when Coriolanus thinks nothing of inciting them; we can hardly imagine a better choice for the role, although Brian Cox did a beautiful job in Fiennes' Coriolanus.
The production is due to open on December 6th at London's tiny Donmar Warehouse, a diminutive theatre that has nevertheless hosted some of the most memorable productions of recent years. Hiddleston's last foray into onstage Shakespeare was in the theatre's production of Othello starring Chiwetel Ejiofor, and Kenneth Branagh's Donmar memories of playing alongside Hiddleston in Ivanov later prompted Branagh to recommend Hiddleston for the cast of Thor. (There were a lot of names in that last bit, but "Kenneth Branagh's Donmar memories of playing alongside him in Ivanov lated prompted him to recommend him for the cast of Thor" is a bit baffling.)
But why is Best For Film reporting theatrical casting? Well, two reasons. First is TOM HIDDLESTON YAY, obviously, and second is the exciting news that January 2014 will see a one-off live broadcast of the play in cinemas nationwide. We don't often get onboard with these remote theatre things, but this could be one to watch out for.
Will you be watching Tom Hiddleston as Coriolanus? Let us know below!
About The Author