Trailer for Aardman's Arthur Christmas now online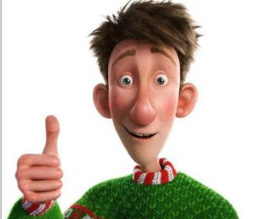 Some many months back now we got all teary-eyed and moist-trousered about the prospect of Aardman's new project Arthur Christmas. The premise sounded great, the cast sounded great, and to be honest, we're pretty biased when it comes to suspecting the things that Aardman do will end up being great. Well, the first trailer has hit, and though it doesn't have the motion capture joys of Wallace and Gromit, it does have a spectacular jumper.
Arthur Christmas follows the secret operations of Santa's system; a method that has been honed to military precision over the years by an army of terrifyingly efficient elves. Heir to the Santa-throne Steve has grown cynical and tired of the process and it's left to one plucky young bloke – Arthur, voiced by James McAvoy – to BRING BACK THE SPIRIT OF BLOODY WELL CHRISTMAS. The cast includes Hugh Laurie (as Steve), Jim Broadbent (as Santa) and Bill Nighy (Grand-Santa, obvs), and it better be brilliant. It just better.
There is nothing that brings joy to our souls like the idea of Hugh Laurie as Father Christmas. Swoon.
About The Author