Twilight screenwriter to produce Earthseed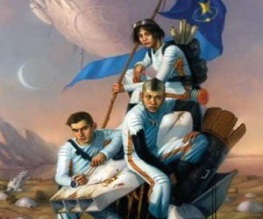 Not content with having defiled the underworld of gothic archetypes, Twilight Saga screenwriter Melissa Rosenberg has set her sights on outer space, exchanging sparkling bloodsuckers for pubescent extra-terrestrials. Rosenberg has been tapped by Paramount Pictures to adapt and produce a feature film version of the 1983 sci-fi young adult novel Earthseed by Pamela Sargent, and the thrifty penwoman already sounds amped to get down to whittling away at the plot.
The story follows a group of teenagers created from genetic material and raised by a spacecraft seeking a new planet to repopulate humanity. "Earthseed is an incredibly compelling world, and I'm excited to dive into it," Rosenberg said in a statement. "The film's premise easily lends itself to an exciting franchise with plenty of room for invention and humor." Distortion and parody, you say? Sounds just like your previous project, Melissa.
About The Author