TWO full-length trailers debut for Skyfall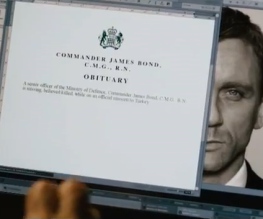 Just hours after the launch of the last teaser trailer, we've finally got not one but two full-length looks at hotly-awaited Bond twenty-threequel Skyfall – and it looks phenomenal.
The last thing you want to do right now is read us chuntering on, so hurry up and watch both trailers (one domestic, one international – the latter's better in our opinion) immediately:
D'you know what, we're so psyched we're not even going to comment on Javier Bardem's blonde hair or general similarity to John Malkovich's ghastly Johnny English villain – regular readers will know that that is a LOT of reserve for us. Anyway, he still looks fucking amazing. "Mummy has been very bad…"
Seriously, is there anything in those two trailers that doesn't look absolutely shit hot? Ralph Fiennes' incredibly long sentences, Ben Whishaw's geek-chic new Q, Naomie Harris' general badassery, BOND SHOOTING HIS CUFFS AFTER HE'S LANDED ON AN EXPLODING TRAIN OH MY GOD – if this comes off, we may even be able to forget Quantum of Solace. Roll on October!
About The Author