Uma Thurman to play alongside Robert Pattinson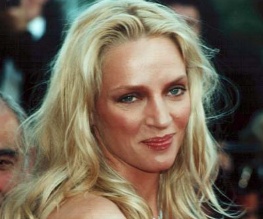 Uma Thurman will be the envy of every teenage girl across the world. She's just landed a role alongside everyone's favourite vampire Robert Pattinson, in a film called Bel Ami. After recently playing Medusa in Percy Jackson and The Olympians: The Lightning Thief, Thurman is replacing the snake hair and Greek gods with period costumes and Robert Pattinson.
The film is based on a 19th century short story written by French writer Guy de Maupassant. Its about a young Parisian journalist, George Duroy (Pattinson) whose writing comes as a secondary factor in furthering his career – instead he uses his charm to sleep his way to the top. Thurman will play the wife of one of Duroy's friends who is in the army. Not yielding to his flirtation, she refuses to sleep with him but helps his career nonetheless. She introduces him to politicians and arms him with political gossip to help his writing. Duroy then gets involved in a sour-ending affair with his editor's wife played by Kristin Scott Thomas (Easy Virtue, The Other Boleyn Girl).
The only other characters yet to be cast are two more women with whom Duroy has relations. Can you imagine the queue for that audition? "One of Robert Pattinson's conquests" seems the be the role every actress wants these days.
About The Author