V&A Museum announce Hollywood Costume exhibition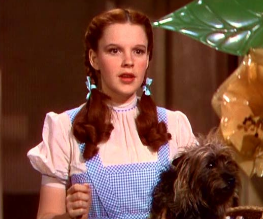 I think we all know, in our hearts, that none of us will really die happy until we've seen Neo's Matrix coat in the flesh. We know that, we've accepted it and that makes it OK. Thank God then, that this autumn the utterly marvellous Victoria And Albert Museum will be dedicating an exhibition to the most iconic costumes in Hollywood's history. They'll be showcasing such momentous attire as Judy Garland's blue and white gingham pinafore dress from The Wizard of Oz, Audrey Hepburn's little black Breakfast At Tiffany's dress and Johnny Depp's drunken scourge-rags from Pirates of the Caribbean. No word on whether Tom Selleck's moustache will feature, but surely it's only a matter of time.
Not only is this the first time all of these amazing costumes will be shown in one place, but for many pieces of attire this will be the first time they will be shown to dirty public eyes. Alongside more than 100 classic costumes will be film clips, projections and specially commissioned interviews with Hollywood directors, costume designers and actors including Meryl Streep and Robert de Niro. We're actually pretty gosh darn excited about this. The exhibition doesn't open until October, but hopefully we'll be able to get word to you about to expect, as well as pictures and clips from the exhibition itself.
It's basically going to be an absolute must for anyone even vaguely interested the this history of costume design, the construction of screen characters or, obviously, those who've always wondered just what Johnny Depp's trousers really look like. Stay tuned!
About The Author