Videodrome remake gets director, which will really help.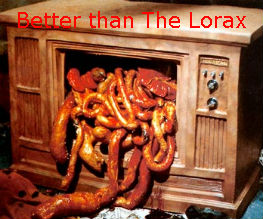 We're really not all that keen on this trend of taking the gooiest 80's movies and making them bad (Sorority Row) innocuous (The Thing) or.. a bit better (Fright Night), so naturally our feelings are mixed with regards to the remake of David Cronenberg's gooiest, maddest film Videodrome. Will our hero pull anything gross out of the new vagina he's found in his stomach? Will his gun and his hand become a damp, amorphous mess? Will a notable indie-pop star get one of her tits out?
All we know at this point is that it will be directed by a person, which is a stellar turn up for the books for everyone involved. That director is Adam Berg, who's never made a proper big film but has directed loads of music videos and this amazing, terrifying advert for Phillips, which won the Cannes Lions International Advertising Festival – the best prize an advert can win.
We're not entirely sure which of Phillips' products that's promoting, but damn they some spooky clowns. Based purely on that, we're giving this project an extremely tentative thumbs up. For now.
About The Author