WATCH: Ewan McGregor and Naomi Watts in The Impossible trailer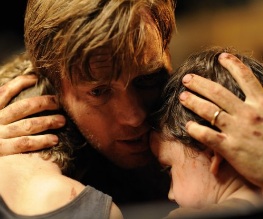 We've been desperate to lay our eyes on the trailer for upcoming film The Impossible and now, finally, we can. Based on the true story of one family's survival of the 2004 tsunami, the film stars Naomi Watts and Ewan McGregor, along with some pretty adorable looking kids, and it's set to pull at your heartstrings and tug at your tearducts – cue the cinematic blubfest of the year.
The film follows the story of Maria (Watts), Henry (McGregor) and their three sons, who are all extremely excited about spending their Christmas holidays in a tropical paradise. Crystal blue seas, idyllic swimming pool, fantastic paper lanterns, a buffet worth fighting for… this holiday has got it all. But, inevitably, on the morning of December 26th, everything changes.
So what have we got here?
A family physically ripped in two by a huge wall of unstoppable black water. A desperate struggle for survival. An overwhelming true-life terror. Loss, devastation, impressive special effects. The kindness of strangers. Ewan McGregor topless – for a very long time. Maybe even the entire film!
Basically, this movie has set out to do the inevitable and break down the incomprehensible effects of the 2004 disaster into smaller, manageable chunks. It was so easy to feel detached while watching the news coverage when the tsunami hit eight years ago but now, thanks to The Impossible, we have the chance to view the catastrophe first-hand, through the eyes of real people.
It's so gunning for an Oscar nomination, isn't it?
The Impossible hits cinemas in January 2013. Will you be going to see it?
About The Author