Waterworld director to remake the Bible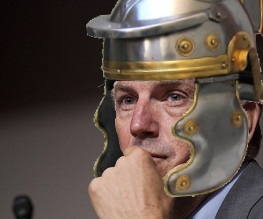 Well, this is some of the best news we've ever had. Kevin Reynolds, best known for giving Kevin Costner gills in Waterworld and a vaguely Arabic sidekick in Robin Hood: Prince of Thieves, is attached to a new film called Resurrection – a thriller that follows the first forty days after the resurrection of Christ.
Described by its backers LD Entertainment (via the Hollywood Reporter) as "Gladiator in tone but with a mystery bent, an all-ages movie that tells of how the first Easter came to be", which sounds AWFUL, Resurrection explores the immediate aftermath of Jesus' earthly encore through the eyes of an "agnostic Roman centurion charged by Pontius Pilate to investigate rumours of a risen Jewish messiah and locate the missing body of Jesus of Nazareth". Along the way, the centurion meets various Biblical and historical figures (we're crossing our fingers for a Chris Rock/Long Rufus cameo), and presumably ends up converting/being martyred/making an arse of himself.
LD Entertainment recently produced The Grey and Killer Joe, both solid productions, so maybe this won't be the utter, UTTER washout that it appears to be at first glance. And maybe Kevin Costner won't be cast as the centurion, although we know that's maybe pushing the boat out a bit. Meanwhile, if Reynolds is looking for a killer casting choice for Jesus himself, we've already had a few thoughts…
Who would you like to see in Resurrection? Let us know below!
About The Author