We have no idea what to make of Francis Ford Coppola's Twixt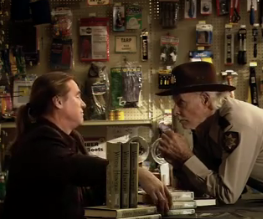 Now, we never know what we're going to get from Francis Ford Coppola. From The Godfather to Apocalypse Now, from Dracula to Tetro – no matter how mixed-up this crazy film world gets, we can rest safe in the knowledge that Francis Ford Coppola is, at least, perpetually unpredictable. Enter Twixt – his new horror, which seems to attempt to be a purpose-build sci-fi B-movie full of strangely amateurish shots, partial 3D and uncomfortable dialogue. Huh.
Twixt tells the tale of Hall Baltimore (Val Kilmer); a down-and-out horror writer who is reluctantly touring with his latest book. When he stumbles across an unsolved murder of a young girl in a sleepy town, he decides to collaborate with a local on a new book about her grisly past, but it isn't long before his dreams are interrupted by visits by the girl herself (Elle Fanning). That's pretty much all you need to know, off you go:
Now, Coppola isn't the kind of director to anything by accident, so the jarring, B-movie feel is evidently intentional. It's rather difficult to get a feel for the atmosphere of the film itself just by watching the trailer, so we're going to keep our opinions zipped for now. And heck, it's not a reboot, a remake, an adaptation or a prequel, which is (rather depressingly) refreshing. Opinions?
About The Author