(We) Scream 4 (Ice Cream)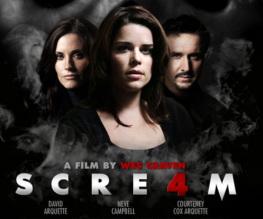 A new terrifying 2 minutes and 21 seconds of Scream 4 have popped up for your viewing pleasure. There aren't any shocking new revelations from the first trailer, which was released back in October of last year, but a reassuring affirmation that the new Scream 4 will be the clichéd, tongue-burning-a-hole-through-its-cheek slasher that all Craven fans were be hoping for.
"New Decade. New Rules." sets an appropriate mantra for this latest Scream offering, with Sidney Prescott (Neve Campbell) returning to her old home town 10 years after her previous ordeals. Why she couldn't have just gone for a non-specific anniversary like say, 9 years, is anyone's guess. Lo and behold, upon her return she once again falls victim to the attentions of a new killer. You'd have thought they'd just stop selling kitchen knives to the murderer types but oooh no…
Scream will thrust its way into UK cinemas on the 15th April.
About The Author